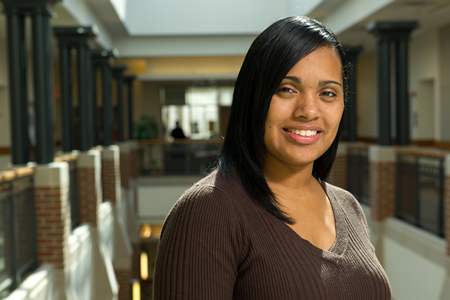 Associate Director of Enrollment
On JCU's enrollment staff since 2009
Hometown: Cleveland, Ohio
High School: Euclid High School
Degrees: B.A. (Spanish), M.Ed., Xavier University; M.Ed., John Carroll University
Hobbies and Interests: Traveling the country, amusement parks, musical shows, and writing poetry.
Guilty pleasures: Jimmy Johns and reality TV shows.
Favorite thing about JCU: The community atmosphere and family-oriented feel the university has for its students and staff.
Favorite places in Cleveland: Cleveland Botanical Garden, PlayhouseSquare, and restaurants in the Tremont neighborhood.
Advice for prospective students: Take the time to visit campus, get to know the current students at the school who share similar interests, and get to know your admission contact. Don't be afraid to ask questions so that you better understand both the admission and financial aid process.
I serve as the enrollment manager for students and families from:
Ohio (Saint Ignatius High School; Central Ohio)
South (Alabama, Arkansas, Florida, Georgia, Louisiana, Mississippi, Tennessee)
Puerto Rico, Virgin Islands
I would love to chat with you! Please contact me anytime: