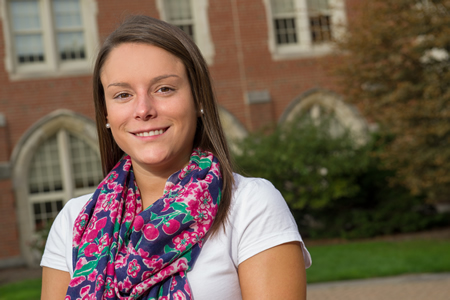 Associate Director of Enrollment
On JCU's enrollment staff since 2010
Hometown: Lockport, New York
High School: Buffalo Academy of the Sacred Heart
Degrees: B.S.B.A. (marketing), M.B.A., John Carroll University
Hobbies and Interests: Advising my sorority and following the Buffalo Bills.
Guilty pleasure: Ice cream.
Favorite thing about JCU: The campus community. I have met some incredible people over my years here as a student and staff member.
Favorite place in Cleveland: Chagrin Falls.
Advice for prospective students: Enjoy the process. Experience the campus at each school you are interested in by scheduling visits.
I serve as the enrollment manager for students and families from:
Ohio (Select schools in Cuyahoga, Geauga, and Summit Counties)
International Students (Africa, Asia, Australia, Canada, Caribbean, Central America, Europe, Middle East, New Zealand, Pacific Islands, Russia, South America)
I would love to chat with you! Please contact me anytime: