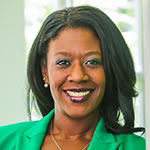 Assistant Vice President for Enrollment Outreach and Student Success
On JCU's enrollment staff since 2017
Hometown: Akron, Ohio
High school: John R. Buchtel High School
Degrees: B.A. (Black World Studies/Sociology), M.Ed. (Curriculum & Teacher Leadership), Miami University
Hobbies and interests: Weight training, kickboxing, and basically all things fitness. I also love traveling with friends and family.
Guilty pleasure: Twizzlers (lots of them).
Favorite things about JCU: Our beautiful campus and the amazing people.
Favorite places in Cleveland: Great Lakes Science Center, Downtown Cleveland, Trader Joe's, and Progressive Field.
Advice for prospective students: Be patient, do not procrastinate, and visit your top schools multiple times. Choose a place where you can make a difference and a place that will help you to grow into the person you want to become.
I serve as the enrollment manager for:
International students
Transfer Students
I would love to chat with you! Please contact me anytime: