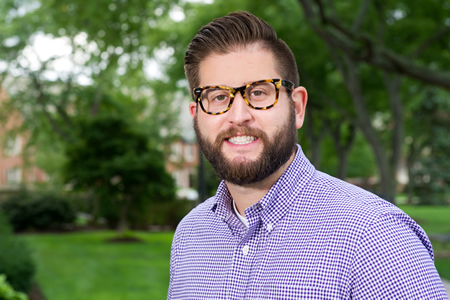 Assistant Director of Enrollment
On JCU's enrollment staff since 2014
Hometown: Vandergrift, Pennsylvania
High school: Kiski Area High School
Degrees: B.A. (political science), John Carroll University; M.A., Boston College
Hobbies and interests: Spending time with family and friends, college basketball, live music, and new restaurants.
Guilty pleasures: Fantasy football and Swenson's drive-in.
Favorite thing about JCU: The great relationships that students are able to form with faculty and peers. As an undergraduate, I had many classes that had fewer than 15 students. In that type of setting, you build amazing connections with both professors and classmates.
Favorite places in Cleveland: Edgewater Park and the Tremont and Ohio City neighborhoods (particularly the restaurants).
Advice for prospective students: Make sure you are visiting schools. It's the best way to know whether or not that particular school is a good "fit." Also, never underestimate that "gut feeling" you get when you are on a visit and the school just seems to feel right.
I serve as the enrollment manager for students and families from:
Ohio (Ashtabula, Carroll, Columbiana, Cuyahoga-East, Geauga, Lake, Mahoning, Stark, Trumbull, Tuscarawas, and Wayne Counties)
Mid-Atlantic (Delaware, District of Columbia, Maryland, New Jersey, Virginia)
New England (Connecticut, Massachusetts, Maine, New Hampshire, Rhode Island, Vermont)
Plains and Upper Midwest (Iowa, Kansas, Minnesota, Missouri, Nebraska, North Dakota, South Dakota, Wisconsin)
I would love to chat with you! Please contact me anytime: