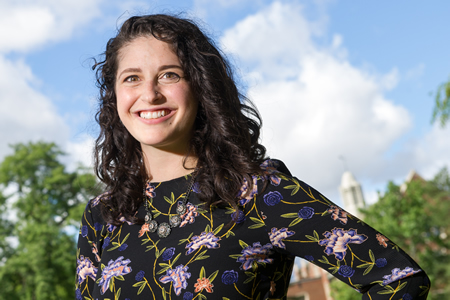 Assistant Director of Enrollment
On JCU's enrollment staff since 2015
Hometown: Pittsburgh, Pennsylvania
High school: Schenley High School
Degree: B.A. (English), College of Wooster
Hobbies and interests: Reading, cooking, traveling, and brunch.
Guilty pleasure: Falling asleep to TLC or HGTV.
Favorite thing about JCU: The inclusivity on campus and the location. It's really special to have a tight-knit community feel while on campus and still be so close to all of the opportunities offered in the city.
Favorite places in Cleveland: Barroco Grill in Lakewood, West 25th Street in Ohio City, and the Cleveland Museum of Art.
Advice for prospective students: Visit the different schools on your list to make sure you are finding the one that is the "right fit" for you. Ask questions during your visits and be sure to explore the academics, student life, and community at each college. After all, your college isn't just going to be the place where you're learning for four years – it's also going to be your home.
I serve as the enrollment manager for students and families from:
Ohio (Select schools in Cuyahoga County)
New York
I would love to chat with you! Please contact me anytime: