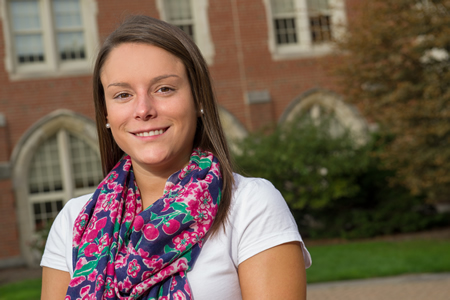 Associate Director of Enrollment
On JCU's enrollment staff since 2010
Hometown: Lockport, New York
High school: Buffalo Academy of the Sacred Heart
Degrees: B.S.B.A. (marketing), M.B.A., John Carroll University
Hobbies and interests: Spending time with family and friends, traveling, and cheering on the Buffalo Bills.
Guilty pleasure: Ice cream.
Favorite thing about JCU: The campus community. I have met some incredible people over my years here as a student and staff member.
Favorite place in Cleveland: Chagrin Falls.
Advice for prospective students: Take advantage of the different visit opportunities available to you at JCU. You can learn more about John Carroll in our admission presentation and by touring the campus, but be sure to come back for a personalized visit where you can explore JCU in greater depth.
I serve as the enrollment manager for students and families from:
Saint Edward, Saint Ignatius
Michigan
U.S. citizens living and studying abroad
U.S. territories
I would love to chat with you! Please contact me anytime: