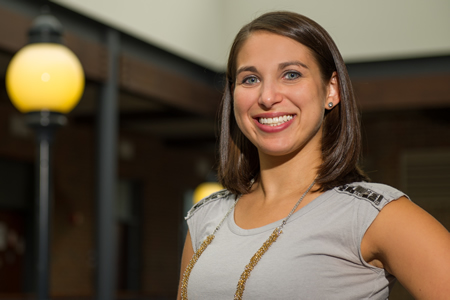 Assistant Director of Enrollment
On JCU's enrollment staff since 2009
Hometown: Louisville, Kentucky
High school: Ballard High School
Degrees: B.A. (journalism), Indiana University; M.Ed., John Carroll University
Hobbies and interests: Exercising, knitting, singing, scrapbooking, cooking, and spending time with friends and family.
Guilty pleasures: Watching reality television! I love Real Housewives of…anywhere!
Favorite thing about JCU: The location – it's the best of both worlds. When you are on campus you get a very "college town" feel which is contrasted by the closeness of downtown Cleveland. Students get the comfort of a suburban campus with all the advantages that a big city has to offer.
Favorite places in Cleveland: Tremont neighborhood and the West Side Market.
Advice for prospective students: Ask questions! Admission professionals are here to help you but it is up to you to ask the questions you want answered, so don't be shy. We want you to get the most out of your time on campus and to be informed throughout your entire college search process.
I serve as the enrollment manager for students and families from:
Ohio (Walsh Jesuit, Saint Joseph Academy, and Padua Franciscan; Southeast Ohio)
Summit and Portage Counties
Pennsylvania
West Virginia
Mid-Atlantic (DC, DE, MD, VA)
I would love to chat with you! Please contact me anytime: