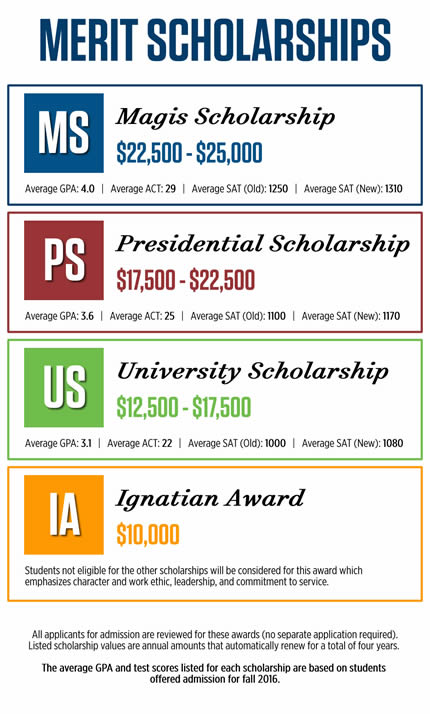 Merit Scholarship Appeal Process
Merit scholarships are based on a student's GPA through 6 semesters of high school work (through the end of junior year of high school) and the highest subcomponent scores among any and all results of either the ACT or SAT that we have on file AT THE TIME OF ADMISSION AND MERIT REVIEW*.
For applicants who meet the Early Action/Priority Scholarship admission application deadline of December 1, a request may be made to have their merit scholarship award reconsidered by the Scholarship Committee, but only under the following conditions:
NEW/UPDATED standardized test scores are submitted; appealing your scholarship because you received a higher one from another institution WILL NOT be considered.
A complete financial aid package (based on results from the FAFSA) has not yet been awarded to the student. Once a complete financial aid package has been awarded, ALL financial appeals must be submitted according to the financial aid appeal process.
Scholarship appeals should be submitted in writing to the applicant's enrollment manager.
*It is the applicant's responsibility to make sure we have any and all score results that they want us to consider before we review their application.
University Mission-based Scholarships
As a Jesuit Catholic university, John Carroll inspires individuals to excel in learning, leadership, and service in the region and in the world.
Students should apply for admission by December 1 to receive full consideration for the following scholarships. Please note scholarship deadlines when applicable. Some scholarships require an additional application process.
Arrupe Scholars Program
| | |
| --- | --- |
| Who is eligible: | All accepted undergraduate students are eligible to apply. Applicants should demonstrate a strong commitment to community service and social justice issues. Submit a completed application for admission to John Carroll by December 1. |
| Type of application form required: | Application for admission plus additional scholarship application. Scholarship application is due by January 8, 2017, at 11:59 p.m. Eastern time; only online submissions will be accepted. You can access the application here. |
| Basis upon which award is granted: | Recipients will be chosen by a scholarship committee through an interview day in early February. Students will be required to be involved in and engaged in the campus community, perform community service projects and participate in designated course work in order to renew their award. Arrupe Scholars will also follow a newly created curriculum both in classroom and out of classroom during their four years. |
| Annual range and terms of repayment: | $5,000 scholarship; awarded to 20 students; no repayment necessary. NOTE: This scholarship is awarded in addition to any merit scholarship received at time of admission. |
| Notification: | All applicants will receive a decision letter by mid-March. |
| Renewability: | Ordinarily renewable for a total of four years (eight semesters) of undergraduate study while meeting the requirements of the Arrupe Scholars Program and maintaining Satisfactory Academic Progress. |
Leadership Scholars Program
| | |
| --- | --- |
| Who is eligible: | The award is a scholarship designated for those students with the greatest potential to have an impact on the John Carroll community and the world around them. Scholarships are awarded to students who have expressed and/or exhibited a serious interest in, and capacity for, developing their leadership capabilities. Submit a completed application for admission to John Carroll by December 1. A minimum high school GPA of 2.8 is also required to apply. |
| Type of application form required: | Application for admission plus additional scholarship application. Scholarship application is due by January 8, 2017, at 11:59 p.m. Eastern time; only online submissions will be accepted. You can access the application here. |
| Basis upon which award is granted: | Recipients will be chosen by a scholarship committee after reviewing all applications. Leadership Scholars will follow a curricular and co-curricular plan during their four years. |
| Annual range and terms of repayment: | $5,000 scholarship; awarded to 20 students; no repayment necessary. NOTE: This scholarship is awarded in addition to any merit scholarship received at time of admission. |
| Notification: | All applicants will receive a decision letter by mid-March. |
| Renewability: | Ordinarily renewable for a total of four years (eight semesters) of undergraduate study while meeting the requirements of the Leadership Scholars Program and maintaining Satisfactory Academic Progress. |
Honors Program
| | |
| --- | --- |
| Who is eligible: | All accepted undergraduate students are eligible to apply. Typically, incoming Honors students have earned an A or A- average in a strong college preparatory curriculum and scores of 650 on subcomponents of the old SAT or 29 on subcomponents of the ACT, and have demonstrated strong writing skills and engagement in cultural and service activities. Submit a completed application for admission to John Carroll by December 1. |
| Type of application form required: | Application for admission plus additional scholarship application. Scholarship application is due by January 8, 2017, at 11:59 p.m. Eastern time; only online submissions will be accepted. You can access the application here. |
| Basis upon which award is granted: | Recipients will be chosen by a scholarship committee. Once admitted to the program, honors students are expected to maintain active participation and to demonstrate a commitment to high academic standards and intellectual growth. |
| Annual range and terms of repayment: | $5,000 scholarship; awarded to approximately 35 students; no repayment necessary. NOTE: This scholarship is awarded in addition to any merit scholarship received at time of admission. |
| Notification: | All applicants will receive a decision letter by mid-March. |
| Renewability: | Ordinarily renewable for a total of four years (eight semesters) of undergraduate study while meeting the requirements of the Honors Program. |