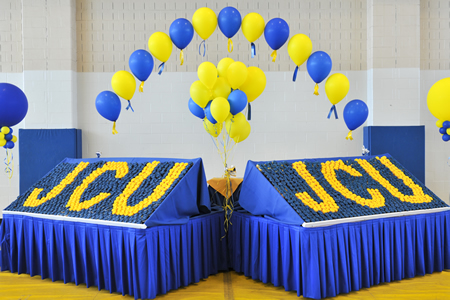 The Class of 2018 Celebration will be held on Saturday, April 5, 2014. Admitted students will receive an invitation to this event through the mail. Make plans now for you and your family to attend!
The Class of 2018 Celebration is our largest event of the year, designed especially for all admitted students. At a large event such as this, students will be able to meet many of the friendly faces you will encounter during your undergraduate years, including potential classmates, roommates, professors, and other members of the John Carroll community. During the Celebration, you will be able to:
Explore your area of academic interest
Visit various campus offices and dining locations
Take a campus tour and/or a special bus tour of the surrounding neighborhood
Hear from John Carroll students, alumni, and faculty
Learn about academic services and opportunities
We call it our "Celebration" as it is a day to reflect on all you have accomplished throughout high school and the admission process but also a chance for us to celebrate the talents you will bring to our campus. It is a great opportunity to experience some of the many wonderful aspects of life at JCU and to confirm if we are the right "fit" for your next four years!
The Class of 2018 Celebration will take place from 9 a.m.-3 p.m. Take a look at the tentative agenda.
Register for the Class of 2018 Celebration today!
Note: Online pre-registration for the Class of 2018 Celebration will close at 9 a.m. Eastern on Thursday, April 3 to allow our team to prepare for the event.