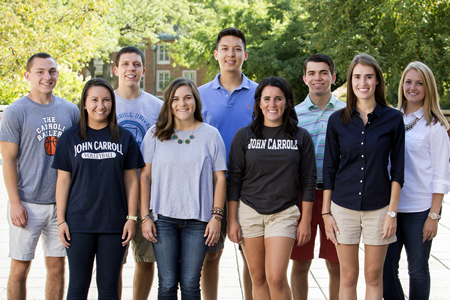 2016-2017 Costs for Full-Time Undergraduates
| | |
| --- | --- |
| On-Campus Student | Commuter Student |
| Tuition: $37,190 | Tuition: $37,190 |
| Room and Board: $11,250* | Room and Board: $0 |
| Fees: $1,300 | Fees: $1,300 |
| Total: $49,740 | Total: $38,490 |
*Room and board rates will vary based on the building, room type and amenities, and meal plan chosen.
Room
Standard Double Room $6,170
Triple Room $5,140
Single Room $6,990
Board
14 Meals Per Week + $100 Dining Dollars $5,080
175 Meals Per Semester + $150 Dining Dollars $5,080
125 Meals Per Semester + $300 Dining Dollars $5,080
Board Premium Options
Unlimited Meals + $100 Dining Dollars $5,860
250 Meals Per Semester + $100 Dining Dollars $5,380
Commuter Plan 
48 Meals Per Semester + $100 Dining Dollars $550
About our Fees 
The Student Activity Fee (SAF) provides for numerous activities that directly benefit students, including programs, services, student facility improvements, and events. These activities enrich the student experience, build community, and encourage students to live out the Jesuit mission to lead and serve.
The Student Technology Fee contributes to the purchase, implementation, and support of information technology that directly benefits students and the overall academic learning environment. The technology fee supports the wireless campus, the help desk to troubleshoot/repair student-owned PCs, campus computer labs and classrooms, and printing services.
The Student Health & Wellness Fee provides students with Health Center services including nursing care, over-the-counter medicine, medical supplies, and free consultations with a licensed nutritionist. The fee also supports the University Counseling Center, Health Education and Promotion programming, and the Office of Services for Students with Disabilities.