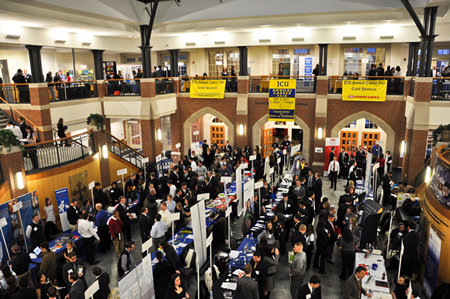 Our students take advantage of internship opportunities available to them locally, and many find employment in the Cleveland area after graduation. Cleveland is the corporate headquarters for several Fortune 500 companies, including Eaton Corp., Sherwin-Williams, and American Greetings. Jones Day, the country's second largest law firm, makes its home here. Northeast Ohio is also home to two major banks – KeyCorp and FirstMerit. Insurance giants Progressive and Medical Mutual of Ohio are headquartered here. Biotechnology firms, such as Simbionix USA and Athersys, find Cleveland to be an attractive base.
Of course, Cleveland is also home to the Cleveland Clinic, a large research and treatment center recognized as the nation's top heart center and heart transplant center. Each year, more than 20 John Carroll students gain invaluable experience completing internships at the Clinic.
Additionally, more than 500 companies in Northeast Ohio are owned or operated by John Carroll alumni, allowing many opportunities for our students to gain valuable internship experiences that set them apart in their job search after graduation.