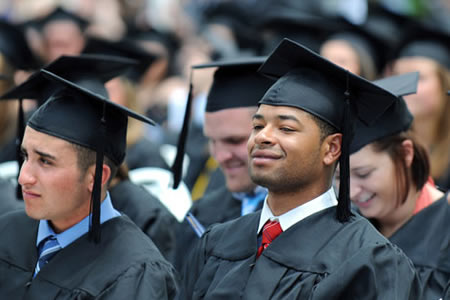 For 125 years, John Carroll has focused on graduating students with intellect and character in the Jesuit tradition of educational excellence.
Located in the beautiful, safe, Cleveland suburb of University Heights, our 60-acre campus is easy to navigate and offers state-of-the-art facilities, including the Dolan Center for Science and Technology and a newly renovated TV studio and media lab.
We offer nearly 70 distinct majors and a wide array of other academic concentrations. Admission is selective and focused on maintaining our excellent success rates for student retention and four-year graduation rates.
Our Distinctions
John Carroll ranks #7 among universities that grant master's degrees in the U.S. Midwest. 2012 marked the 24th consecutive year that the University was named in the top 10 institutions in this category (U.S. News and World Report)
#3 ranking in the "Schools with a Strong Commitment to Teaching" category (U.S. News and World Report)
#6 ranking in the "Great Schools, Great Prices" category (U.S. News and World Report)
Ranked #148 among America's Best Colleges by Forbes Magazine
One of 152 colleges ranked as "Best in the Midwest" (Princeton Review)
Boler School of Business holds dual AACSB accreditation placing it in the top 5% of business programs worldwide
Boler School of Business is ranked #62 in the U.S. by Business Week