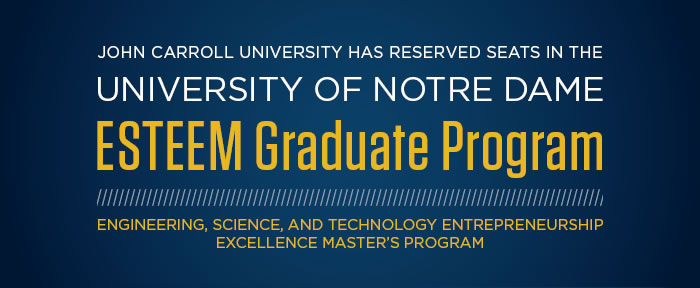 Are you planning to be a STEM or economics major, but are also interested in entrepreneurship, innovation, and technology?
You may be interested in the ESTEEM Graduate Program, an 11-month master of science degree program at the University of Notre Dame, that equips students from technical backgrounds with the skills and experience to launch new businesses, become innovators within large corporations, and be leaders of dynamic, innovative teams. Two seats are reserved for John Carroll University graduates in the ESTEEM program each year.
The ESTEEM (Engineering, Science, and Technology Entrepreneurship Excellence Master's) Program emphasizes the action of entrepreneurship, not just the study of it, by letting students get their hands dirty with entrepreneurship in one of the most realistic entrepreneurial sandboxes in higher education. Over the course of a year, students get hands-on experience with entrepreneurship and innovation through a cutting-edge curriculum, a capstone commercialization thesis for an emerging technology, and outstanding out-of-the-classroom experiences. By the time they graduate, due to the rigorous academic experience, exposure to real-life business ventures, and exceptional mentorship, ESTEEM students find their technical skills impactful and marketable in a rapidly changing economy.
Learn from one of ESTEEM's most entrepreneurial alumni about how transformative this program can be by watching this video.
You can find more information by viewing this information flyer, by visiting esteem.nd.edu, or by contacting Dustin Mix at dmix@nd.edu.