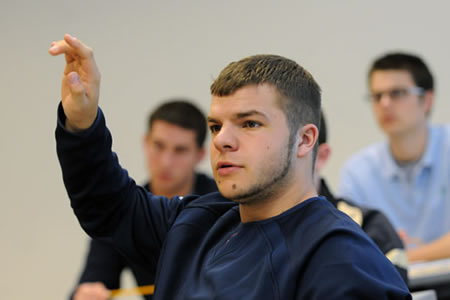 John Carroll University educates the whole person – intellectually, spiritually, emotionally, and physically. With no more than 25 students in most classrooms and an emphasis on putting lessons to work in the local community, John Carroll is an interactive experience. Each semester, you'll find that classes are not just about what is covered by the professor, but more so what is uncovered by your own inquiry, experience, and voice.
Challenge Yourself
A variety of majors and a wide array of other academic concentrations
Our honors program offers a lively intellectual and cultural community for exceptional students
Faculty Expertise
97% of our 186 full-time teaching faculty have the highest degree in their field
Many faculty have published books, articles, or received grants in the last two years
Individual Attention
Students are taught in small classes (14:1 student-to-faculty ratio) by professors who are experts in their fields.
As an undergraduate-focused university, students work with state-of-the-art scientific equipment, are published in academic journals, present at regional and national conferences, and gain invaluable experiences that many students at other institutions don't get until graduate school.
Full-time faculty members serve as academic advisors, assisting you with course selection and guiding you toward graduation in four years.
Core Curriculum
Our core curriculum is informed by the wisdom of 450 years of Jesuit education, interpreted by the faculty to maintain relevancy, and individualized to each student.
You will develop a broad perspective, gaining a better understanding of yourself and others.
Still Deciding?
About 15% of the freshman class begins college completely unsure of their major.
Undecided students can take an "Exploring Your Options" course to explore their interests, values, personality, and skills in relation to academic options available to them.
Beyond the Classroom
A variety of study abroad opportunities are available for students.
Many opportunities exist for John Carroll students to conduct research.
Partnerships
Five-Year Bachelor/Master's Programs